Sometimes you are advised to get follow up booster shots pretty close together. Is it really necessary for your pet? Could you be doing more harm then good?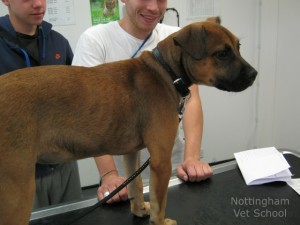 Here are some opinions from Dr. Becker about over vaccination:
Dr. Becker's Comments:

You've undoubtedly seen them in your mailbox. Cute little reminder cards from your vet that it's time for Beauregard's annual vaccinations. But after looking a bit closer at the risks and benefits of these vaccines, you might want to paws before making that appointment.

Could these vaccines not only be unnecessary, but actually harmful to your pet's health?

Absolutely.

We overvaccinate our children — but at least we eventually stop after puberty. But with our pets, we continue vaccine boosters until they are well into their senior years.

As adults, we don't assault ourselves with annual boosters, and we certainly wouldn't do this to our elderly family members. So why do we inflict this upon our pets, regardless of their immune status or age, when common sense would tell us those vaccines should last longer than a year?

Additionally, there are no adjustments in dose for size or age of your animal. Your five-pound Miniature Pinscher receives the same size vaccine as your 150-pound Rottweiler. Your 10-pound housecat gets the same amount as a 400-pound lion.

All of these vaccines are overwhelming your pet's immune system. Vaccine reactions are at an all-time high.

A study of more than 2,000 cats and dogs in the United Kingdom by Canine Health Concern showed a 1 in 10 risk of adverse reactions from vaccines. This contradicts what the vaccine manufacturers report for rates of adverse reactions, which is "less than 15 adverse reactions in 100,000 animals vaccinated" (0.015 percent).

Additionally, adverse reactions of small breeds are 10 times higher than large breeds, suggesting standard vaccine doses are too high for smaller animals.

A few bold veterinarians have paved the way for ending overvaccination, but the research is sparse and the opposition is great, just as with the human vaccine industry — and for similar reasons.

In this article I will be addressing three main points:

1. There is no scientific evidence that annual vaccines are necessary, and in fact once animals achieve immunity from their initial vaccines, they appear to have immunity that lasts for many years, and often for life, without boosters.

2. There is growing alarm that overvaccination appears to be causing a multitude of serious medical problems, particularly with the immune system, including allergies, seizures, anemia and cancer.

3. Vaccines are a very profitable part of veterinary care — in fact, some vet practices are built around them. Long-term studies of animal immunity would require a substantial outlay of money — the kind of money that only the drug companies have, and Big Pharma is much more interested in selling more vaccines than challenging the need for them.

My Vaccine Recommendations

Wellness visits are important for other reasons than vaccines, such as checking for heartworm and tumors and assessing general health status. I do recommend continuing these checkups every six months, although I do not recommend annual vaccines.
Rabies vaccines are required by law. There are approved 1-year and 3-year rabies vaccines. They are the same product. Please ask for the 3-year vaccine, if you opt to vaccinate your pet against rabies. I also recommend you consider finding a holistic vet that will provide you with the homeopathic rabies vaccine detox, called Lyssin.
Ask for a Vaccine Titer Test: this is a how you can determine if your pet has adequate immunological protection from previously administered vaccines (puppy or kitten shots). Antibody levels can be measured from a blood draw, in place of revaccination. The type of titer that best assesses immune system's response to vaccinesis called IFA, or indirect immunofluorescent antibody.Please discuss with your vet the risks versus benefits of the diseases you are considering vaccinating for, before you automatically assume additional vaccines are necessary.

Indoor housecats should not be vaccinated annually, especially if they never go outside or have access to other cats (potentially exposing them to infectious disease). I believe overvaccination is one of the main reasons the general health of our feline patients is deteriorating.
Do not vaccinate your dog or cat if it has had a serious life-threatening vaccine reaction.
Do not patronize any boarding facility, groomer, training facility or veterinarian that requires you to vaccinate your pet more than necessary.

The decision by some vets to come forward with the truth about pet vaccines is a positive step toward changing our animal health care system. Veterinary vaccines are one more unfortunate example of the corporate greed that permeates the pharmaceutical industry.
She goes on to detail extensive studies and information backing her opinions. Do we have any veterinary readers that can weight in on this topic?
Image Source:  School of Veterinary and Science University of Nottingham, UK's photostream on Flickr