Hmmm, now this one is tough. I have slept in a large bed with a large dog and didn't ever feel like it caused poor sleep or interfered with my rest in any way. Now I have slept in a smaller bed with a different dog equal in size and I couldn't even get a solid hour of sleep. This was directly due to the dog I was sleeping with at the time. My fur baby Cocoa, rest in peace, was the easiest dog to sleep next to and unless she was dreaming never disturbed me at all. She even stayed right where she fell asleep. The other dog was a younger pup and stays glued to your leg all night long, stealing your spot if you have to get up in the middle of the night for any reason.
So it is clear to see that this really depends on the dog… right? What is your opinion on this?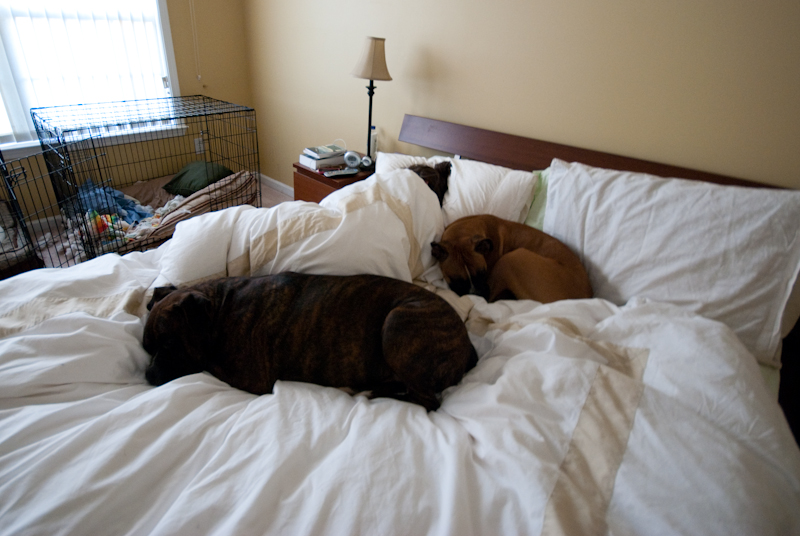 Check out the details from the study that was conducted on this below:
In an interview with Medscape Medical News, Sowjanya Duthuluru, MD, lead author of the study from the University of Kansas Medical Center in Kansas City, told how sleeping with a pet could affect a person's sleep quality.

Duthuluru and her colleagues recruited 298 participants and asked them to answer a survey probing into their pets and their sleep quality. Of the 148 pet owners, nearly 30 percent reported that they are often awakened by their pets during the night; 54 percent of the pet owners also stated that they share their room with their pets. Of those who share their room, 58 percent have dogs and 42 percent have cats. Fifty-seven percent, on the other hand, reported that they sleep in one bed with their pets.

The study also revealed that 75 percent of the pet owners share their bed with one pet while 25 percent share with more than one pet. Most of the participants admitted that they sleep one night per week with their pet while eight percent share the bed with their pet for at least four nights a week.

The researchers measured the sleep quality of those who sleep at least four nights a week with their pets. Based on the data of Pittsburgh Sleep Quality Index, these participants have low sleep quality.
Image Source: Robb Sutton on Flickr