Pit Bulls and their owners will finally get a break. Maryland is thinking about finally not discriminating against Pit Bulls and their owners. Currently they presume that all Pit Bulls are dangerous regardless if they have never had a violent history. Is also holds the owners and landlords of these breeds 100% liable for any attacks.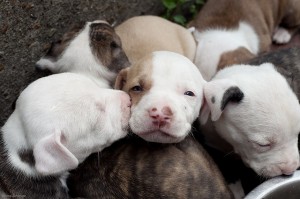 Here is what the Best Friends Animal Society has to say about all of this:
The effect of that ruling was to spur a rash of evictions and the surrender of pit bulls to shelters with little chance of adoption given the liability issue for pet owners and landlords, not to mention problems related to homeowners insurance, etc. Such breed-discriminatory legislation does not advance public safety because it separates legal consequences and liability from the behavior of individual dogs and reckless owner practices."Every day I wake up and I wonder whether this will be the last day. Someone might say you can no longer keep your dog," one dog owner, Danielle Windsor, told Baltimore's CBS affiliate. "He's my best friend, and that's why I'm here today."

"Here" is Maryland's capital city, Annapolis, where last week folks who oppose the court ruling were showing support for HB 0073, a bill that would undo the court's 2012 pit bull ruling.

Best Friends summed up the bill in a blog post supporting the proposed legislation, introduced by Del. Luiz R.S. Simmons (D-Montgomery):

HB 73 would rightly make dog owners, not landlords, responsible for personal injuries or death caused by their dogs. It would also protect responsible dog owners by creating a rebuttable presumption (to indicate that the owner thought the dog was a good dog: for example, he went to obedience classes, does well in doggie daycare, behaves nicely at the groomer).
Yesterday the hearing on this bill was held and now everyone in the Maryland state is eagerly awaiting the outcome.
What other states have to deal with these kind of Bully discrimination besides Colorado and Maryland?
Article Source: Huffington Post