Sadly, less than 20% of pets are returned to their owners once they turn up at shelter. This is simply due to them lacking identification and getting picked up no where near their home or local shelter. So always make sure your pet is wearing identification and get them microchipped.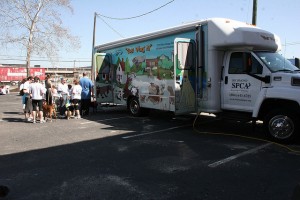 Here's why:
Be sure that your dog or cat always wears a non-choke type collar,  a current identification tag and a license from your municipality. (By state law, dogs ages 4 months and older must be licensed, which requires that their Rabies vaccination be up-to-date. Some areas also require cats to be licensed. Check with your city or township clerk's office for licensing details).

In conjunction with visible identification tags affixed to a dog or cat's collar, the Michigan Humane Society recommends microchipping – a permanent, effective and unalterable form of identification.

Microchipping is not a replacement for tags, which are your pet's first line of defense. However, since ID tags and collars can fall off – or be taken off – the modest cost of having your pet microchipped is well worth the peace of mind.

To help save lives, MHS now provides microchipping at no cost with all cat and kitten adoptions.  In addition, MHS offers a microchipping discount at the time of adopting a dog or puppy from MHS.
Try calling your local shelters and see if they have the same offer or have any discounts for the safety of your pet.
Is your dog or cat microchipped?
Article Source: Michigan Humane Society
Image Source: Richmond SPCA on Flickr