If you find yourself getting restless during the long, cold winter months and going a little stir crazy, you can guarantee your fur buddy feels the same way. Even if you don't feel the need to get in some exercise I am sure your dog does and needs it.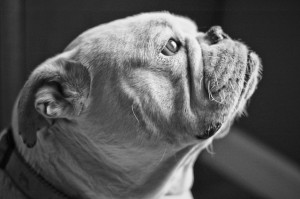 Here are 9 different ways to engage your dog and get them moving indoors:
1. Food Dispensing Toys – Food dispensing toys are invaluable boredom busters. While rubber Kongs are classic toys and can be stuffed with a great variety of treats and tasties, in the last few years the food dispensing toy market has greatly expanded and there are lots of new and exciting products available.

2. Kibble Hunt – If you place your dog's kibble in a food bowl, chances are the bowl is empty within 15 seconds and the dog gazes up at you upon finishing as if to say, "is that it?" You can put that food to work for you by making your dog hunt for it with his nose. Instead of dumping the food in his bowl, consider crating him while you hide small piles of food in the house then release him to "kibble hunt." Initially, make the piles very easy to find. As your dog gets better at this game, practice hiding the food in more difficult spots.

3. Tug and Fetch – Tug and fetch are classic dog games that do not require a lot of room. Hallways tend to be great for fetch games, and tug can be played virtually anywhere.

4. Shaping Games – Shaping provides great mental exercise for a dog and a good shaping session can often tire a dog more than a walk that is two or three times as long. Practicing shaping in lots of short sessions will help tire your dog's brain out while relieving stress and boredom. Teaching your dog new behaviors is fantastic for her confidence and will make both of you happy!

5. Learning Games – British trainer Kay Laurence has a fantastic book available called "Learning Games." This fantastic book is chock full of ideas for how to keep your dog mentally and physically stimulated while improving his behavior. For more fun ideas from Kay, check out her youtube channel.

6. Have a Doggie Play Date! – If your dog has a favorite playmate or friend, consider scheduling a rainy day play date. Before your dog's pal arrives, be sure to puppy proof and pick up all breakables and valuables. As you know, dog play can get quite rowdy!

7. Go on a Socialization Outing – If you are unable to take your dog for a walk, consider taking him for a ride and doing a "fun visit" at the vet's office where he just goes to hang out and get some treats and scratches just for being a great dog. This will provide the added benefit of teaching him that vet visits can be a lot of fun!

8. Play Hide and Seek! – Hide and seek is a great way to exercise your dog's mind and body and recall skills. Each family member should stock up on great treats. Family members will take turns hiding throughout the house, calling the dog to them, and rewarding her generously when she arrives. When her treats are finished, say "all done!" which is the cue for the next family member to call him.

9. Nosework – Canine nosework is a great new sport that can be done in your house. All you need to start are some boxes and some great treats!
You might think these "games" are not very beneficial to the exercise of your furry friend but the mental exercise alone is enough to make a healthy difference when stuck indoors for long periods of time.
What are your favorite indoor games to play with your fur baby on cold or stormy days?
Image Source: Lesleigh Guinn on Flickr