Luckily 26 people were caught and arrested during the rescue of 17 dogs from a dog fighting ring. The most disturbing part is the fact that two small children were found watching these vicious fights with their parents… disgusting isn't it? Thank gosh most of these individuals went to jail and are being charged. The best part of this story… the fact the people that were trying to escape were caught by the help of… dogs! Justice!!!
Help spread the word about how popular dog fighting still is and why it needs to end by sharing stories like this one. You may just be one voice alone but together we can and will make a difference.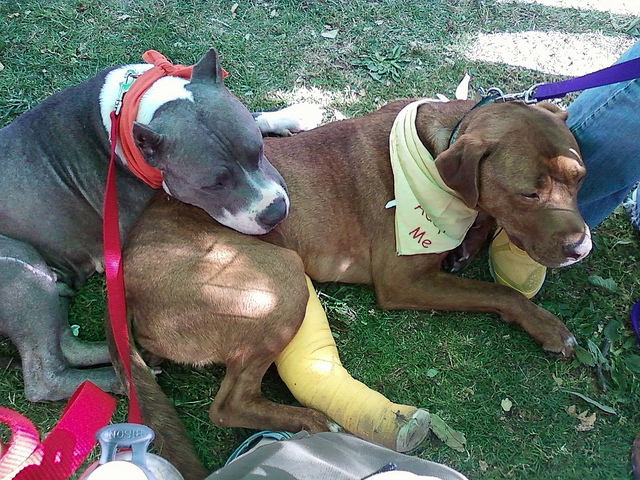 Do you think these guys should get a harsher penalty than Michael Vick who is now back playing with the NFL?
Check out a few more details on this horrible story:
The people scattered when the police showed up to avoid being caught.  However, police used dogs to catch most of the spectators according to police spokesperson Sgt. Kim Walsh.

There were about 17 dogs rescued, mostly Pit bulls, were recovered from the scene.  Many of the dogs were badly injured, and had to be carried out on stretchers according to officers on the scene. Officer Walsh said these people thought of dog fighting as a sport.  They would travel to different places to host their matches, and bet money on each fight.

"The rest of us would consider this cruel and inhumane," said Walsh.

No names have yet been released.  According to Walsh and other police officials, this dog fighting group has been under investigation for some time now. This story and investigation are ongoing.
Article Source: Life with Dogs
Image Source: puck90 on Flickr