Here is a recipe from a cute little husband and wife team that are specially made for bowser. I was a little hesitant because of the dairy.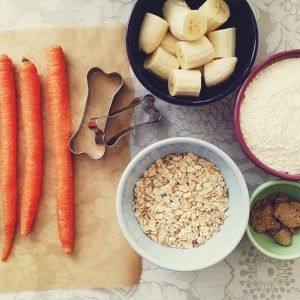 Does anyone know if this is a healthy dog recipe or more of a dog treat one?
Ingredients

1 cup cooked and pureed chicken
8 whole eggs
1/2 cup cottage cheese
1/2 teaspoon baking powder
1 cup Cheddar cheese, shredded

Instructions

Preheat oven to 350 degrees F.
Spray (small or large sized) muffin tin with cooking spray or use cupcake liners.
Whisk eggs and combine with cottage cheese, pureed chicken, baking powder, and cheese. (You can substitute canned tuna for chicken or use a combination.)
Fill each cup 2/3rds full of egg mixture and bake.
Bake 30 minutes for mini muffins, slightly longer for larger muffins. Egg cups should be golden brown.
Article and Recipe Source: Dog Tipper
Image Source: Yiseol Kenworthy on Flickr