One of the happiest moments in anyone's life is the day you get to bring home a brand new puppy. So tiny, adorable and full of love, puppies can not only bring great happiness but also bring a family together. Trading off cleaning, grooming and feeding scheduled not only brings the family together as a compatible working unit but also teaches the little ones in your family how to care for other and take on responsibility.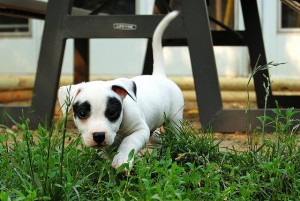 Once you have decided to finally get a puppy the following should be discussed prior to bringing one home:
Once household discussions have established that everyone wants a dog of a certain age and breed, where to get the pup-from a shelter or reputable breeder-is more or less determined. Now, family meetings should cover scheduling:

Who will take the pup to the papers or backyard and when?
Who will be in charge of feedings three to four times a day?
Who will make veterinary appointments for vaccinations and deworming?

You'll need to puppy-proof the area where the youngster will spend most of his time the first few months. This may mean taping loose electrical cords to baseboards; storing household chemicals on high shelves; removing plants, rugs, and breakables; setting up the crate; and installing gates. Once you think you've completely puppy-proofed, lie on the floor and look around once more to get a puppy's-eye view.

Getting Off on the Right Paw

When you pick up your pup, remember to ask what and when he was fed. Replicate that schedule for at least the first few days to avoid gastric distress. If you wish to switch to a different brand, do so over a period of about a week by adding one part new brand to three parts of the old for several days; then switch to equal parts; and then one part old to three parts new.

From the start, consistency is important. On the way home, Puppers should ride in the back seat, either in one person's arms or, preferably, in a crate or carrier.
There are a few other things like making sure you have purchased everything needed for your little pup before bringing them home. Get lots of chew toys and a healthy treat so you can start training them right away.
Any other tips you can add to the list?