If your co-workers were canines you would probably enjoy going into the office every day to greet and play with them. This past Friday, June 20th was take your pooch to work day created by PSI or Pet Sitters International and was started back in 1999.
Did you or anyone you know actually take their dogs into the office with them? Mine did! I would have brought my fur baby too but she's a little anti-social and I think it would have stressed her out.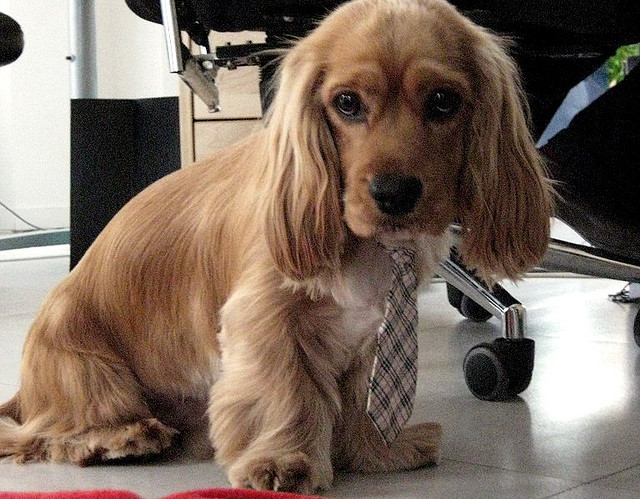 Check out the top 8 list of dogs that are considered the very best breeds to take to the office:
#1 – Mutt: What better way to celebrate the all-American canine-also known as the mutt-than with a special trip to the office? Never take an aggressive or overly nervous dog into a workplace, as this could do more harm than good.

#2 – Samoyed: This Nordic beauty dons the famous "Sammy Smile," which is exactly what every work environment could use. Friendly, gentle and devoted, the Samoyed is smart and learns rapidly, so he is likely to outwit any in-office prankster or game play.

#3 – Labrador Retriever: Bred to be both a working breed and friendly companion, the Lab is perfectly suited for in-office camaraderie. His tail can clear a desk of paperclips and folders, so keep the paperweights handy when he visits.

#4 – Coton de Tulear: This smart little cutie is bred to be a companion animal, so he makes the perfect at-work pal. Definitely a conversation starter, the Coton is a friendly pooch who loves to socialize.

#5 – Pugs: One of the most people-friendly dogs you'll ever meet, fanciers of the breed often dub the pug a little clown. Of course, the more you laugh, the more he wants to entertain, so this pooch makes a fun playmate and at-work icebreaking companion.

#6 – Beagles: This active breed can get into trouble if left alone too long, so they make a perfect companion for an active person or family. Beagles are food motivated, so keep trash cans out of reach the day they visit the office.

#7 – Newfoundland: Since Newfies prefer colder climates and do not do well in the heat, an air-conditioned work environment where they can socialize and make the rounds in climate-controlled comfort will make them top dog of the day.

#8 – French Bulldogs: He is playful, entertaining, mischievous but funny, so his presence in a work environment will make for a fun day.
Image Source: Tine Steiss on Flickr