Nicolae CB shares a brief story below and asks for any relevant advice on some skin and health conditions her GSD has. Do you have any decent advice for these types of German Shepherd conditions?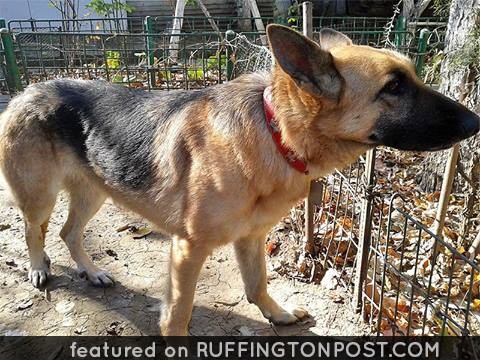 Hello people!
I will appreciate any relevant advice regarding next case:
I have a female GSD , aged five, undergoing double surgery ( enterectomy 8 inches of small intestine + castration ) . Currently it seems to be almost entirely recovered at eight months away from that intervention.
Considering the operation of castration and thinking that may be prone to inactivity and obesity, I used to feed her with Belcando Adult Light version ( the protein is around 19 % , fat 8%, ashes&fibers 5% etc), mixed with cooked food ( boiled rice and chicken meat , carrots, celery, zucchini , parsley ), two portions on a day.
But scurf and dermatitis on its back started to become a continuous problem, and the vet told me to give up homemade food , even a simple light soup or something that may enhance the taste of the dry food not being suitable.
I would like if possible to find some more meaningful alternatives to change its diet, so that can get rid of that problems on the back .
Corroborating with the budget (and the close winter needs), I shuttle between some different types of food:
-Brit Adult Premium L (protein 26%, fat 14%, fibers 2,2%, ash 6,5%, calcium 1,5 %, phoshor 1,1%; 40% protein from chicken);
– Bosch Adult Maxi (protein 21.00%, fat 12.00%, fibers 2,50%, ash 6,50%, calcium 1,30%, phoshor 0,90%; dry meat protein 23%, total meat protein 62%);
BOSCH Adult Menue (protein 21.00%, fat 12.00%, fibers 2,50%, ash 6,50%, calcium 1,30%, phosphor 0,90%; dry meat protein 24%, total meat protein 63%). Is it the source of protein a big issue (considering that the rest of protein is probably coming from soya or other derivates)?!?
As well as this I heard you can mix this dry food with anyone of these: yoghurt, light cow cheese, egg yolk, tuna, or even salmon oil (who is very good for skin and fur), to enhance the taste and strenght of the dog. Is it right?
This dog dog is living in the yard all the time being quite active, with no signs that the castration changed metabolism towards a sedentary style.
Thanks for your time!
Nick