Does your new puppy get into and chew on everything? Are you thinking about taking your new puppy to classes in 2014?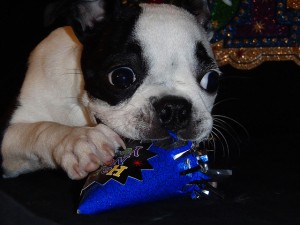 No better time to start then the beginning of a new year, especially if the puppy was a Christmas or New Years Eve gift! Many classes all over the nation offer the following:
Open to the whole family
Socialization when it matters most
Quiet Holds
Bite Inhibition (soft mouth)
Eliminate Mouthing
Basic behaviors
Off Leash skills so your puppy learns to work with you even if there's not a leash
Management of excitement
Operant methods are used to get behaviors
Get your puppy off to a bright start
Can be used with 90 Days to the Perfect Puppy
This class over at Sit Happens is all the way out in Georgia but like I said before classes are nationwide. Ask your vet if you can't find one you feel comfortable with online.
Or do you have some suggestions you can share with us below?