Rottweilers may seem like one of the easiest breeds to bath but do you take their ears and double coat into consideration when grooming them? My Rott mix used to run tell her paws bled but I was so young when I had her I had no idea about paw balm and couldn't keep her still.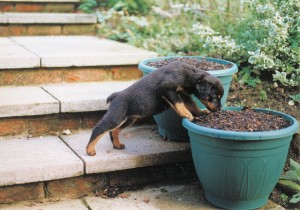 Below is some great Rottweiler grooming tips and advice that you can use to keep your pup clean and healthy:
General: Rottweiler's are a double coated breed that have a short undercoat below the short flat topcoat. Grooming is suggested for 4 – 8 week intervals to clean ears, clip nails, check anal glands and insure the coat and skin are in healthy condition.

Eyes: 

Eyesshould be alert and bright. Use

Optisooth

e during the bath to flush any foreign objects.

Ears: 

Monthly ear cleaning with

Ear Care

is advised to be sure no ear problems that might need vet attention arise. Only clean as far as you can see, never further.

Bathing:

Rottweiler's require 2 baths when you bathe them. The first bath should be a general bath, any of our

Classic Care

or

Professional Care

products are perfect. If your Rottweiler  has allergies or sensitive skin we would suggest a

Hypo-Allergenic Coconut Shampoo

and follow it with a medicated shampoo depending on your dogs needs. If your Rottweiler has normal skin then the second bath you would want to pick one of out wonderful

Scent Renewal

shampoos and conditioners. Follow the bath with a

conditioner

or

Luxury Remoisturizer

to keep the coat in great shape.

Paws

.

Paw Balm

should be used weekly as well, paw pads that are soft and pliable are less likely to dry and crack

Coat Care: 

Aloe Hydrating Spray

between baths will keep the coat moisturized and in great shape. A

Hot Oil Treatment

will bring out the natural luster of the coat and control dandruff

Show Dog Tips:

Show Style's Silky Show Shampoo and Conditioner

 to keep moisture in the coat as well as silk proteins..

Show Style High Sheen Spray

right before entering the show ring will add the little extra shine without any oily residue.

Tools:

Shedding blade

can be used to pull out the dead coat. Short coated breeds shed all year around and so they constantly need to be brushed.
Do you have any other tips on grooming your Rott that we didn't cover above?