If you are a dog lover and owner, you definitely will be taking your fur baby in mind when deciding where to retire. Maybe you want to move to an active retirement home but need to make sure the amenities are all included for your precious pooch too. Our doggies are not just our best friends and fur babies, they are vital to our health and stress levels as well. Even if your dog was not intended for therapy that is exactly what they provide for you year in and year out. This is exactly why you want to make sure they enjoy your retirement with you as much as you know you're going to!
There are several places online that are dedicated to providing the best places to retire for you and your furry companion.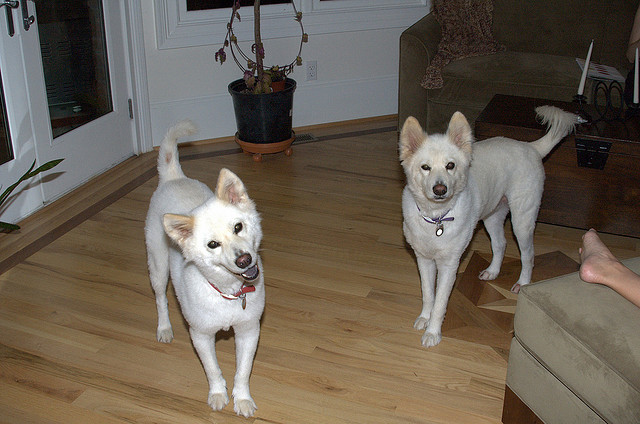 Check out a few of the top communities that are more than dog friendly places to retire:
Louisville, KY
• Doggy spas, kitty corrals and pet boutiques
• Pet School and Hotel offers grooming, board, day care and specialized training.
• Four leashless dog parks, with plenty of open space for dogs to run and play, with separate areas for small dogs.

Nashville, TN
• Famous Centennial Park is dog friendly and there are many leash-free dog parks.
• Good number of bakeries, like See Spot Eat.
• Pampering at pooches Come. Sit. Stay.
• Doggie training school at Dogs and Kat.

Asheville, NC
• Adoption services like the Asheville Humane Society, with events like the Mutts + Divas fashion show.
• Pampering at Funky Mutt, Waggers Dog Depot and Something to Bark About.
• Asheville Dog Parks, like the French Broad River Park or Azalea Dog Park, both of which are leash-free and fenced.
• Dog-friendly restaurants, like Laughing Seed Cafe, Asheville Pizza and Brewing Company and Carmel's Restaurant and Bar.

Albuquerque, NM
• Bookworks bookstore keeps dog treats behind the counter.
• Several friendly restaurants: Gecko's Bar, Tapas dogs, and Flying Star Cafes.
• Several dog parks, including the Tom Bolack Urban Forest, Santa Fe Village and Rio Grande dog parks, as well as the lakes of Tingley Beach.

Eugene, OR
• Oregon Truffle Festival runs a truffle-hunting seminar for curious dogs and owners.
• Home to organic dog treat wholesaler Our Happy Hounds and Steve's Real Food, and at least four dog-friendly restaurants.
• Many leashless dog parks and pet events, with plenty of fresh air good for both residents and their pets.

Santa Cruz, CA
• Spring Dog Festival each year includes skill and talent competitions, costume competitions and more.
• Many off-leash areas like Mitchell Cove Beach.
• More than 16 dog-friendly restaurants.

Boulder, CO
• Boulder requires residents to fill out paperwork establishing them not as the animal's owner, but legal guardian.
• There are numerous leashless dog parks in the city and nearby
• There are more than 144 miles of trails in undeveloped Open Space and Mountain Parks. Most open to leashless dogs.

Rocky Mount, NC
• Pet boarding, in-home pet sitting, training or exercise from Sisters Two Pet Crew Inc.
• Three top notch veterinary hospitals.
• Adoptive pets are available through Rocky Mount Animal Control and the Edgecombe-Nash Humane Society.

Colorado Springs, CO
• Eight leashless dog parks.
• Dog-friendly stores at the Promenade Shops at Briargate display sporty yellow signs proclaiming Pets Welcome!

Portland, OR
• More than 32 leashless dog parks and dozens of pet friendly restaurants
• Hundreds of pet day cares, dog-sitters, veterinarians, trainers, bakeries, photographers, groomers, boutiques, boarders, and other common pet services.
• Nutritionists, holistic medicine practitioners, pooper scoopers, funeral homes, lawyers, massage therapists, acupuncturists and six listed pet psychics
There is even a list of dog friendly retirement places that are for the physically fit and active:
Tucson, AZ
SaddleBrooke is an active adult community in Tucson, located at the base of the Santa Catalina Mountains, with amazing views and outdoor hiking opportunities. Unlike most age-restricted communities reserved for residents aged 55 and older,SaddleBrooke allows people 40 and older to reside in the community. It has a dedicated dog park.

Bend, OR
The Falls at Eagle Crest, an active adult community in Central Oregon, allows pets, but they must be on a leash. Fences are prohibited in The Falls to preserve the natural beauty of the land. The community also encompasses 15 miles of walking trails, with stations that have waste disposal bags.

Naples, FL
Del Webb Naples is an active adult community in the hometown of Ave Maria University in southwest Florida. The 5,000-acre Ave Maria master planned community is centered around an intimate town square and the University.
There are many small neighborhood parks throughout Ave Maria, plus two large community parks. The North Park includes soccer fields, baseball fields, basketball courts, picnic pavilions and a playground. The South Park, adjacent to Del Webb Naples, has a softball field, bocce ball courts, pickleball courts, horseshoe pits, an amphitheatre, dog park and picnic pavilions.

Indio, CA
Sun City Shadow Hills is Del Webb's second active adult community in the Coachella Valley. It is located in Indio, two miles east of Sun City Palm Desert. Residents can take their furry friends to the dog park within the community and a second park is being built.

Las Vegas, NV
Ardiente in North Las Vegas is a 788-home active adult community, with gardens, a full-amenity clubhouse. Six landscaped parks, like the rose garden and dog park, weave together via an extensive network of pedestrian paths.
So if your policy is "must love dogs" to plan where to retire, these resources are sure to help you find the pawfect place… pun intended!
Where will you retire with your fur baby when the time comes?
Article Source: Huffington Post
Image Source: Russell Roesner on Flickr